Welcome to our Holiday-Rental Cottages
Gites to comfortably accommodate 2 to 20 people!
Situated in the Vercors mountains, our gites, (holiday-rentals), are your gateway to the Natural Park. All of our gites are equipped to a high standard (classed with three stars, or "épis" with the official Gites de France quality label).
Le Fouletier is the ideal place for your holidays, be you with your family, amongst friends, or an organised group. You can come and experience the calm of our gites in any season, with the opportunity to nature-watch, admire the flora, or to take part in outdoor sporting activities: canyoning, caving, hiking, mountain-biking, cross-country skiing or snowshoeing.
We have three gites at your availability: the Chalet (a small, independent chalet), the Pavillon (for 4 to 6 people) and the Grand Gite (for 8 to 10 people, which can be joined to the Pavillon in order to receive groups of up to 20 people). Click on the photos below to discover each accommodation in more detail (Please note that these pages are only written in French!)
8/12 people - 20 if twinned with the Pavillon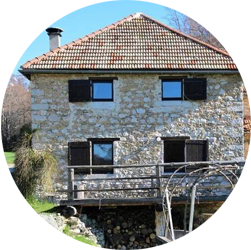 4/6 people
2 people
English
Glossary to help you understand the pages written in French
Given that we haven't translated the entire website, here are a few terms translated to help you understand the gite descriptions and the price rates. And for when you are on holiday with us, don't worry, we can always find a way to communicate successfully!
Descriptif : Description
Rez-de-chaussée : Ground Floor
1er étage : 1st floor
Chambre : Bedroom
Pièce de loisirs : Day room / Games room
Pièce de vie : Living room
Salle d'eau, salle de bains : Bathroom
Salle à manger : Dining room
Linge de toilette : Towels
Linge de maison : Hosehold linen
Buttons, thumbnails
Télécharger : Download
Descriptif : Description
Contacter : Contact us
Réserver : Reserve
Tarifs : trad
Disponibilités : Availability
Janvier : January
Février : Fébruary
Mars : March
Avril : April
Mai : May
Juin : June
Juillet : July
Août : August
Septembre : September
Octobre : October
Novembre : November
Décembre : December
Vacances scolaires : (french) School holidays
Hors vacances scolaires : Outside (french) School holidays
Basse saison : Low season
Parure de lit : Set of bed linen
Nuitée supplémentaire : Additional night's stay
Ménage : Cleaning
Sporting activities
Ondine and Loic are qualified guides (licenced with the French Brevet d'Etat certificates) and propose a range of outdoor mountain activities in the Vercors, right from the doorstep of the Fouletier Gites. Visit our Activities page to find out more!
We can be your guides for a range of expeditions: caving, canyoning, mountain-biking, hiking, cross-country skiing or snowshoeing… Let yourselves be tempted by a taste of adventure!
On site we have two electric mountain-bikes on available for rental, as well as cross-country skis and snowshoes. We can also advise you on your itinerary, or even put you in touch with other activities nearby (hiring a donkey for trekking, for example, or a dog-sledding centre).
For your convenience: From the doorstep of our gites, directly into the surrounding nature!